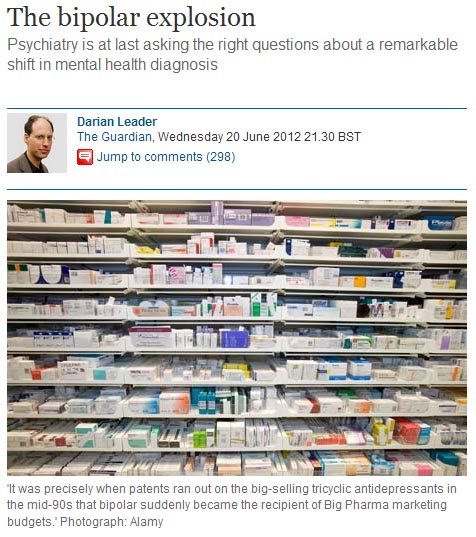 [Click here to read the whole article on the Guardian site.]
Discussion this week about appalling cuts to mental health services focused on the diagnostic categories "depression" and "anxiety". Though there are good reasons to question and critique the use of these terms, they have drawn attention away from a major redrafting of diagnostic and prescription trends. While it is claimed that up to one in four people will suffer from depression at some point, over 25% of these subjects are now likely to receive a diagnosis not of depression but of bipolar disorder.
In the early 20th century the prevalence of manic depression was put at less than 1% of the population, but this figure exploded with the ramification of the bipolar categories. If bipolar 1 was often equated with classical manic depression, bipolar 2 lowered the threshold dramatically, requiring merely one depressive episode and one period of increased productivity, inflated self-esteem and reduced need for sleep.
Bipolar 2 and a half, 3, 3 and a half, 4, 5 and 6 soon followed. Today there is even "soft bipolar", which means a patient "responds strongly to losses". The World Health Organisation deems bipolar the sixth main cause of disability for people aged 15-44. In children, the diagnosis has increased by over 400%.
Historians of psychiatry have all made the same observation: it was precisely when patents ran out on the big-selling tricyclic antidepressants in the mid-90s that bipolar suddenly became the recipient of Big Pharma marketing budgets. Websites helped people to diagnose themselves; articles and supplements appeared all referring to bipolar as if it were a fact; and nearly all of these were funded by the industry.