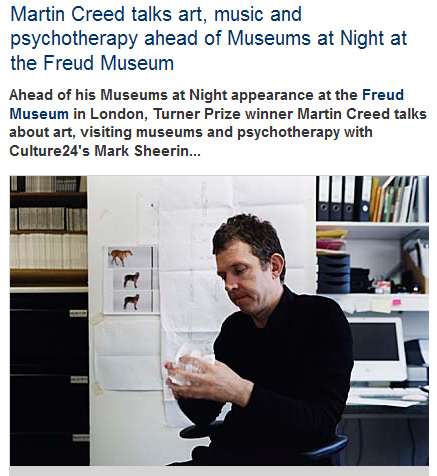 [Click here to read the whole article on Culture24.org.uk]
Anyone with more than a passing acquaintance with the practice of artist Martin Creed will know all about the fastidious numbering of his works. These begin with Work No.3 in 1986 (a yellow painting) and so far stretch as far as this year's Work No. 1461 (an installation made with adhesive tape).
What might surprise you is that Creed's appetite for order and record keeping extends to collecting sound files of every interview he undertakes. So when I catch him on the phone a technical hitch at his end throws the methodical artist.
"Wait, are you recording this?" he wants to know. "Can I get a copy of it?" And after the giving and receiving of assurances that I will later send him an MP3, we are ready to continue. It is quite clear that Creed takes the business of talking seriously.
This bodes well for those lucky enough to find themselves at the Freud Museum during Museums at Night 2013. On Thursday May 16 the Scottish artist will be on the spot, if not on the couch, as he improvises an after hours lecture, with the help of slide projections and a bit of music.
"It's hard to do things," he says. "Everything seems just as difficult as everything else: it's just as much work to try to talk and say something that I think is alright as it is to try to fix and be okay with the shapes or colours in a painting or a sculpture or whatever."
Creed refuses to be drawn about finer details pertaining to the evening: "I'm not sure — I'll probably try just to think out loud and talk about whatever comes up".
But he does admit the event should resonate with his newfound surroundings. "Absolutely, aye," he says, "I do psychoanalysis and I'm a fan of Freud. Yeah, I have been [in analysis] for a very long time."
Creed reveals he first saw an analyst in 1993: "I did it because I was desperate. I wanted to speak to someone." Now he goes four times a week. "It's a bit like going swimming or something like that: I think it's an integral part of my life."
At any rate, intensive therapy is clearly commensurate with a blue chip art career. This most exacting of artists views the activity as labour: "It's work and I feel like I have to keep doing it." This may come as some surprise, considering how effortless the artist's official numbered works appear to be…