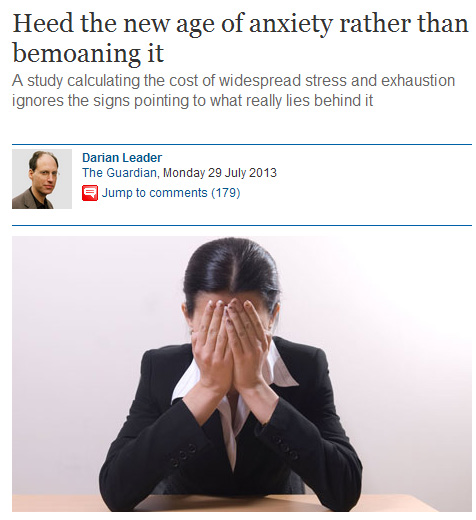 [Click here to read the whole article on the Guardian Website]
If the postwar age of anxiety was supposed to have ended 30 or 40 years ago, a swath of media articles now suggest a dramatic comeback. A new and widely reported study claims a massive increase in anxiety disorders in the UK, with an estimated 8.2 million sufferers compared to 2.3 million in 2007. The pressures of modern life, we are told, must play a large part here, with job stress aggravating the difficulties of urban populations.
The focus on socio-economic conditions is surely a good thing. In the 1980s, Thatcherism encouraged a redrafting of work-related problems as psychological ones. As each person became a unit of economic competition, it wasn't the market's fault if they didn't get a job but their own. Injustice in the marketplace was glossed over as individual failure.
Hundreds of books and articles have questioned this without gaining media exposure, so why the visibility of the new research? I was puzzled to find not a single sentence in the report linking the supposed increase in anxiety to social causes. In fact, there was no explanation at all, and the headline-grabbing prevalence rate for the UK was estimated from Iceland, Norway and Switzerland.
Here, we find a perfect expression of the new mental hygiene movement. Anxiety is grouped together with dementia, stroke and neuromuscular conditions as a "brain disorder", and the authors urge an approach that uses "comparable methodologies for both mental and neurological illness". Disorders are listed in terms of their cost to the economy rather than to individual lives, families and communities. […]